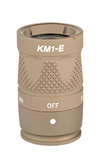 FAQs
Do you ship internationally?

No. We only sell and ship within the United States.
What about manufacturer product warranties?

Warranties from the manufacturer are the customers responsibility to maintain. You will receive three emails from us after your purchase: A confirmation that serves as your receipt. A shipment notification with tracking details, and when applicable a third email with your item(s) serial number(s) for warranty purposes.
Do you offer LE/Military/Gov discounts?

If you are a professional end-user, please contact us about exclusive pricing and product options that may be available to you.